Natteri P. Srihari (a) Lakshmi Narasimhacharyar, Chennai.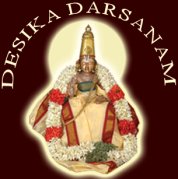 Travails and tribulations of a distressed soul steeped in unswerving devotion to the Lord, found an expression in the form of Sri Abhithisthavam, a hymn of 29 slokas. Abhithi means fearlessness and Swami Desika prays for just that. His pleadings with Ranganatha did not go unanswered.
This hymn has a poignant historical background. It invokes the Divine grace to dispel the sense of horror and panic that engulfed South India in general and Srirangam in particular. This period may be described as one of the darkest in the annals of Indian history.
It was in the aftermath of the invasion in the year 1327 A.D. by Malik Kafur, the general of Alauddin Khilji. The unruly army chief attacked and plundered many religious centres across South India. Temples were demolished, many innocent people lost their lives even as houses were razed to the ground.
Threat to the Srirangam temple became imminent, anguishing and unnerving the devotees. They had little option but to move the idols to another place. A grieved Swami Desika did not want to live in Srirangam sans Namperumal and left the town. It was a forced departure for the specific purposes of saving Sudharsana Suri's 'Srutha Prakaasika' and his two sons. Few years later, he settled in Thirunarayanapuram (Melkote) and then moved to Sathyamangalam where he composed this sthothra.
In the meantime, the idol of Srirangam deity reached Tirupati by a circuitous route with the help of some devotees. Later, one Gopanna Raayaa, the chieftain of Jinji (Senji) brought the idol to his place and worshipped there for some time before reinstalling the same in Srirangam after normalcy was restored, in 1370-71.
Knowing this, Swami Desika was pleased that his devotion had fructified finally. He soon arrived in Srirangam and worshipped Namperumal in Serthi (with Ranganatha, the Moolavar) and basked in ecstasy. Thus the Supreme Lord lived up to His name(s). Bhaya Kruth, Bhaya Nasana: - The creator of fear and its destroyer too. - Vishnu Sahasranama Sthothram - 89.
In a tribute to the great deed by Gopanna Raayaa, Swami Desika composed a verse in Sanskrit (Aaneeya Neela), which one can see in an inscription even now in the Srirangam temple (Opposite to Kili Mantapam).
Coming back to Sri Abhithistavam, Sloka No. 26 establishes the supremacy (Para Thathva Nirnayam) of Sri Bhagavan in unequivocal terms. "Oh Lord, whomsoever you had decided to kill, cannot be saved by anyone – Brahma, Rudra, Indra, Yama. Similarly, whomsoever you had decided to protect, none of them can even touch him. That being the case, we ought to feel safe. Pray rid of the enemies without a trace from Srirangam and other shrines. This will be a great boon to us, Your devotees."
What an unassailable faith! Parallels to this can be drawn in Thvayi Rakshathi... (Sri Kamasikashtakam - 8) and Thvayi Pravruthe... (Sri Ashta Bhujashtakam – 6).
There is an interesting pointer to the time of composition of this hymn, in Sloka No. 28. The author says that he had spent all his youth enjoying the delectable works of Sri Bhashyakara and that his hair had turned grey and asks the Lord what would he want at that old age. This indicates that Sri Desika was about sixty then.
He prays to Lord Ranganatha to bless him for the rest of his life, with a peaceful and harmonious environment amidst good hearted well-wishers, a place which is free of envy and hatred, one where there wouldn't be any trace of enemies.
In the phala sruti, Swami Desika makes a call to those who want to rid of all kinds of fear and become self-confident, to recite the hymn with faith and devotion. This he asserts, will not only provide the secure protection of Lord Ranganatha, but also fulfill all their wishes.
---
* * *
Next in series: 5. Sri Daya Sathakam, on 29th April 2007.
* * *