Natteri P. Srihari (a) Lakshmi Narasimhacharyar, Chennai.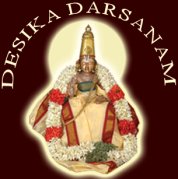 Swami Desika at his descriptive best. This surely will be the refrain when one gets to study Sri Bhagavath Dhyana Sopanam, which extols the beauty of Ranganatha, the Lord of Srirangam.
Perhaps, inspired by Thiruppaanaazhwar's prabandham Amalanaadhi Piran – this is a well-founded inferential reasoning – our Acharya set about composing his own Sanskrit version of Arangan's Thirumeni varnanam on similar lines. So we have this hymn Bhagavath Dhyana Sopanam, offering us a rewarding journey from the Lord's Thiruvadi to Thirumudi.
That Sri Desika has written a commentary by name Munivaahana Bhogam, on "Paadhadhi Kesamadhai Paadi thantha" Amalanaadhi Piran, is a matter of significance and a cinch for the aforesaid reasoning.
The sheer nature of the subject lends itself to descriptive treatment and who better than our great Acharya to take it to exquisite and exalted levels – literally and figuratively!
Sopanam means 'flight of steps'. Starting from the feet, the author takes the ardent devotee through the flight of steps in the form of various parts of the Lord's Sacred Body, in the ascending order. It may be noted that Thiruvadi in our Sampradaya is held as means (Upaayam) and one must, first up, catch hold of the same in order to invoke His grace.
After the customary prefatory sloka, verses 2 to 9 meditatively 'cover' His lotus feet, stunning ankles, wonderful thighs, attractive navel, famed chest (because of the presence of Lakshmi), imposing arms, smiling face and radiant crown in that order. The crescendo thus culminates in a 'face to face' with the Lord.
Sloka no. 2 offers a fascinating study of comparison between the metaphorical lotus (His feet) and an ordinary lotus. It shows that the Divine Lotus is conclusively superior on many counts. To name a few:-
Unlike its poor cousin, the Divine Lotus
is the home to the fragrance of Vedas;
is the flower worn on the head by Brahma Devas;
is not an off-shoot of slush but born from the sacred Kaveri sand;
is softer than even Piraatti's (lotus) hands.
Sloka No. 10 sums up His overall beauty, while 11 narrates the elegance of the Uthsavar – Namperumal.
A word-play (on Madhye – Centre) in the 11th sloka provides for an absorbing finishing touch prior to the phala sruti. Swami says, "Not only does He, along with His consorts, stay put in the centre of Srirangam but also in the interior of my heart" - Madhye Rangam, Mama Cha Hridhaye Varthathe Saavarodha:.
A couple of references can be drawn as pointers as to why Ranganatha, of all the Idols (Archaa Moorthis), was a natural choice when Sri Desika contemplated adoring the Divine elegance.
Sri Andal and Thiruppaanaazhwar can not help but exclaim in ecstasy at the breathtaking beauty of 'Arangan'.
In 'Ezhiludaiya Ammanaimeer' – Naachiyar Thirumozhi (11-2) – Andal addresses "O Bright Ladies!" and goes on "My sweet Lord Aranga has beautiful locks (of hair), beautiful lips, beautiful eyes, and a beautiful lotus on his navel." – beauty personified, in a nutshell.
And Thiruppaanaazhwar exclaims: "Neelameni Aiyo!" – "He wears a beautiful gem-set garland and a necklace of pearls on his dark frame... Aho, His matchless beauty has stolen my heart". – Amalanaadhi Piran (9).
In the phala sruti the great Acharya says that this hymn is a perfect prescription for those who wish to possess unswerving devotion to God and to attain the spiritual heights that great sages do.
---
* * *
Next in series: 4. Sri Abhithisthavam, a sthothra again on Lord Ranganatha, on April 15, 2007.
* * *