Natteri P. Srihari (a) Lakshmi Narasimhacharyar, Chennai.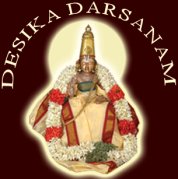 Sri Godha - or Andal as She is familiarly known - assumes a unique status in our Sampradaya, a dual role in fact. She is Consort of the Lord on the one hand and the lone female Azhwar on the other. In Her former role, She combines the qualities of Bhu Devi and Neela Devi and hence considered as an incarnation of both. A matchless masterpiece in ThirupPavai and an aesthetic extravaganza soaked in devotion in Naachiyar Thirumozhi are Her contribution as an Azhwar. (173 verses in all).
Swami Desika sings in Sri Godha Sthuthi, the glory of Andal in 29 beautiful verses. Like ThirupPavai, Godha Sthuthi also has a special place in the Tamil month of Margazhi in which it is recited with verve and devotion in temples and homes alike.
Another invocation - third in succession - with 'surrender' as the theme, sets the hymn rolling, so to say. The author pleads with Godha for succour as he says: "I surrender to Godha as I have none else to take refuge in. She is the Kalpa creeper in the garden (called) Periyazhwar family, the one which charmingly entwines the sandal tree called (Lord) Rangaraja. She is the embodiment of forbearance, a hallmark of Bhu Devi and for sheer compassion, She is virtually Sri Devi."
In the next sloka, Sri Desika explains why he cannot refrain from composing this hymn, despite his limitations as a poet. In an expression of imaginative brilliance couched in subtle self-deprecation, he says: "O Godha! Your greatness is out of the grasp of even the Vedas. That being the case, I knew for sure that there was no question of my words getting the measure of the same and hence remained silent. But Your virtues would have none of it. They are hell bent on breaking my silence and making me speak out."
He promptly follows it up with a prayer to Godha to bless him with the power of poesy marked by lucidity and clarity of diction, in extolling Her glory.
The pun employed on the word 'Vishnu Chiththam' in the ninth sloka while recalling Andal's birth and drawing a parallel to Mahalakshmi's is quite delectable. Both are off-springs of "Vishnu Chiththa". Godha is the daughter of Periyazhwar, also known as Vishnu Chiththa and Mahalakshmi was born in the Milky Ocean which positions Vishnu as its heart (Vishnu Chiththam). He goes on: "Discernible scholars perceive You as sister of Periya Piraatti. You shower charming coolness through Your poetry, while Sri Devi does it through Her compassion. In beauty, You are akin to the Moon and as the Moon was born out of the Ocean a la Mahalakshmi, Yourself and Periya Piraatti are siblings."
In the next sloka, Sri Desika explains how Vishnu Chiththa became 'Periyazhwar'. Addressing Andal, he states, "The Lord is normally inclined to be pleased by a mere trace of admiration. Your father sang hundreds of verses - 473 to be precise - in His praise, yet He was not so much pleased as to confer on him the honorific 'Periyazhwar' (the Great Azhwar) until he presented Him with the garlands rendered fragrant by the contact of Your hair-locks." The fact that no other Azhwar received the honour corroborates the view point that it is all because of Andal.
Our Acharya visualises the loving exchange of garlands by Lord Ranganatha and Andal during their marriage, in Sloka No. 21. He notes that here, as is the practice in the world in wedding functions, a section of connoisseur devotees present is of the view that the Lord is superior to Andal, another section sides with Andal and the rest favour them both equally. Their debate on the subject is echoing in all the three worlds.
Forbearance, Godha Piraatti's special quality, is highlighted with an apt analogy in Sloka No. 27. Swami Desika observes, "O Godha! You are my Mother. I commit lots of sins but still You protect me. It is perfectly in the fitness of things, for, the mother though bitten in the breast by a suckling infant, not only endures the pain but out of natural love, nourishes him also."
In the penultimate verse which serves as Dhyana sloka, the author succinctly captures the salient features of Andal. "May Godha Piraatti, daughter of Vishnu Chiththa, shining and dark-hued like a sapphire, holding a beautiful water lotus in Her hand, with a posture rendered bent by well-laden breasts, an ocean of compassion for Her devotees, one who captivated the Lord by offering Him the garland She wore on Her head, ever shine in our hearts."
And finally, the phala sruti, from which it is evident that this is yet another sthothra named by Swami Desika himself. "A hymn of multifarious merits and magnificence, Godha Sthuthi originated from the fully-blossomed and mature devotion of Venkatesa. One who recites this will be blessed with eternal service at the lotus feet of Lord Ranganatha and Periya Piraatti and remain an object of great esteem to the Divya Dampathis", is how the benediction is assured by the author.
---
* * *
Next in series: 21. Sri Nyasa Dasakam, on December 9, 2007.
* * *