Natteri P. Srihari (a) Lakshmi Narasimhacharyar, Chennai.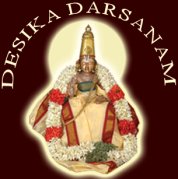 Sriman Narayana, an ocean of compassion, took countless incarnations – "Avathaaraa: asankhyeyaa:" – in the universe, of which ten are considered very important. They, as we all know, are: Mathsya, Koorma, Varaha, Nrusimha, Vamana, Parasurama, Rama, Balarama, Krishna and Kalki (futuristic).
The twin objectives of these avatharas are establishing of Dharma and annihilation of evil forces. This was asserted by Bhagavan Himself in Gita (Parithraanaaya Sadhoonaam . . . Sambhavaami Yuge Yuge).
Swami Desika composed Sri Dasavathara Sthothram at Dasavathara Sannidhi in Srirangam (near Kollidam, a tributary of river Kaveri) to offer his pranamams to the ten incarnations of the Lord. Incidentally, that Dasavathara Sannidhi was built by Thirumangai Azhwar and he stayed over there for a few years, add to the significance of the sthothra.
In this hymn, the author describes the Lord's great deeds as portrayed by Him in the ten manifestations. In fact, he credits the avatharas to Lord Ranganatha of Srirangam.
In an adroitly-conceived dual connotation (pun) in the first sloka, the poet nonpareil uses the word 'Ranga' to mean both Srirangam, the place, as well as the Stage (Ranga in Sanskrit and Arangam in Tamil mean 'stage'). The Acharya says that the Lord and His Consort – the Hero and the Heroine – use the universe, symbolised by Srirangam, as the stage to enact the play of the Ten Avatharas and that the devotees are the audience.
In another poetic beauty to be savoured, Swami Desika employs the word 'Pithaamahi' to great effect (Sloka No. 5 on Nrusimhavathara). He likens the pillar from which Lord Nrusimha emerged, to the paternal grandmother of all the Brahma Devas, as it gave birth to their father Vishnu (in the form of Nrusimha).
Further, he compares Balarama and Krishna's playfulness/pranks to sugar and milk (Sloka 9). While both are independently tasty, adding sugar to milk only heightens the sweetness. Likewise, the brothers' playfulness was plenty right from their young age and inseparable (a la sugar in the milk) and hence all the more enjoyable. A sweet-coated analogy, indeed!
These are only samples of the little nuggets of wisdom the work is interspersed with. We shall unearth many more through the fortnight when we get to learn the hymn.
Sri Desika quite aptly brings together the names of the ten avatharas in the penultimate sloka and declares that those who worship these incarnations make the world sacred.
The author seeks propitiousness to the world (Jaganmangalam) through the recitation of this sthothra. In the phala sruti, he says whoever even seeks to learn the sthothra will have Goddess Saraswati to ascend on his tongue; devotion will rule the mind, spotless the body will become and his fame will spread in ten directions.
---
* * *
Next in series: 3. Sri Bhagavath Dhyana Sopanam, on April 1, 2007. No better day than Panguni Uthiram to start learning the sthothra on Lord Ranganatha.
* * *