Natteri P. Srihari (a) Lakshmi Narasimhacharyar, Chennai.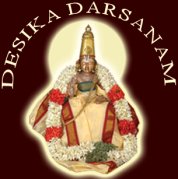 Sri Mahaveera Vaibhavam is another unique hymn composed by Swami Desika. Singing the greatness of Sri Rama – the hero warrior – the Lord enshrined in Thiruvaheendrapuram, along with Sita Piraatti, Ilaiya Perumal (Lakshmana) and Siriya Thiruvadi (Anjaneya), this sthothra is in prose form.
Characterised by sentences/phrases (ending) with epithets in admiration used as Vocatives, the hymn is full of tongue-twisters and jaw-breakers which match the majesty of the subject matter (Valour of Rama).
The hymn begins with a customary invocation, in which Sri Desika hails Rama as the Sun of Sri Vaikunta, whose lustre is enriched by a halo in the form of His Consort Sita, one that descended on the earth to dispel the inner darkness and fear of all devotees.
It is followed by 94 sentences/phrases that range from the simple and crisp to an astounding array of long-winding compounds and alliterations which make for breathtaking rhythm. For illustration, we have the two extremes: Single-word vocative 'Veera!' (வீர!) – (50), the shortest and 'Krathuhara Sikhari ...' (க்ரதுரஹர சிகரி ...) – (20), the longest, with about 30 words.
The author himself, in conclusion, states that the hymn is a tough-soft mixed style majesty. "Katora Sukumara Gumba Gambheeram" (கடோர ஸுகுமார கும்ப கம்பீரம்) - 97. This results in an exhilarating experience to the ones who recite and those who listen to it alike.
The latter of the above examples is an embodiment of compelling complexity in terms of phraseology and studded with cryptic references to several anecdotes.
The synopsis goes like this:
Dhaksha's daughter Sathi was wife of Siva. Once there was a feud between Dhaksha and Siva. So, Dhaksha chose not to give the due offering to Siva during a Yaga performed by him. Unable to bear the disgrace to her husband, Sathi sacrificed her life. An infuriated Siva spoiled the Yaga.
Once when Ravana was returning on board the Pushpaka Vimana of Kubera after conquering him, it stopped near Kailas, the abode of Siva. Nandhi, servant of Siva, who saw this mocked at this. An angry Ravana uprooted Kailas effortlessly and played like a ball. In another instance, Ravana defeated Indra in a battle, with the latter's 'Iravadh', the royal, rampant elephant rendering Ravana's body uneven and rough with scars – marks of bravery.
Ravana himself was defeated by a thousand-armed Kartha Veeryaarjuna, who killed Sage Jamadhagni, father of Parasurama. The enraged son vowed to destroy the Kshathriya clan without a trace and fulfilled it by slaying kings of 21 generations, including Kartha Veeryaarjuna and did his own filial rites from the pool of their blood.
Recalling these incidents, the Swami Desika says, "Rama, You were returning to Ayodhya after Your marriage with Sita. It was then that Parasurama challenged You to tie the string to the Bow of Vishnu, which of course, You did with elan and deprived him of the fruits of his long and sustained penance."
From the above sequence – amazingly, all this in 30 words – it can be seen that the superiority of valour in the ascending order would read as follows: Dhaksha – Siva – Ravana – Kartha Veeryaarjuna – Parasurama – Rama.
This of course is one of many such references from Srimath Ramayana as the author encompasses in this sthothra all the significant events from the seven chapters of the epic.
The chronological break-up of these in terms of phrases is as follows: 1. Bala Kanda 1 to 20; 2. Ayodhya Kanda 21 to 27; 3. Aranya Kanda 28 to 41; 4. Kishkindha Kanda 42 to 46; 5. Sundara Kanda 47; 6. Yudhdha Kanda 48 to 76; 7. Uththara Kanda 77 to 94.
There is scope for inference that Swami Desika chose the prose mode for this sthothra not just because of absence of constraints on length and the resultant flexibility (no metrical adherence required). More importantly, because this is in the nature of story-telling though presented in the second person (addressing Rama Himself). This in itself is a novelty and an index of the master composer's resourcefulness as a creator.
As parting salutation, Swami Desika says, "My adoration to Rama, the head (father) of one household – the entire universe – that has Sita as mother, Brahma as son, Siva as grandson, so on and so forth".
In the final verse, the phala sruti, he makes a fervent call to wise men to "read this Mahaveera Vaibhavam composed by the lion among poets and logicians, which is like a medicine to the disease of the worldly existence and fear". From this it is evident that this is another sthothra that has been named by Swami Desika himself. However, it is also known as Raghuveera Gadhyam as it emphasises its special nature (Gadhyam means composition in prose order).
---
* * *
Next in series: 16. Sri Gopala Vimsathi, on September 30, 2007.
* * *