Natteri P. Srihari (a) Lakshmi Narasimhacharyar, Chennai.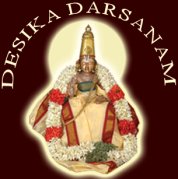 In Sri Devanayaka Panchasath, an exquisite hymn of 53 slokas, Swami Desika extols the greatness and beauty of Lord Devanatha of Thiruvaheendrapuram. The temple here is set in picturesque and tranquil surroundings what with the Aushadha Giri, a hillock abode of Lord Hayagriva, overseeing it in the front and River Garuda forming the rear.
The deity, an immense favourite and one close to the heart of our Acharya, is also known as Daasa Sathya or Adiyavarkku Meyyan (அடியவர்க்கு மெய்யன்), meaning one who is truthful to His devotees. There are umpteen references in which he addresses the Lord by this name. True to his self, Swami Desika (கலியனுரை குடிகொண்ட கருத்துடையோன்), follows the footsteps of Kaliyan who in his Periya Thirumozhi, refers the Lord as Adiyavarkku Meyyan.
"

அடியவர்க்கு மெய்யனாகிய தெய்வநாயகனிடம் மெய்தகு வரைச்சாரல்

..." (3-1-3).
In an enchanting invocation, the author seeks the protection of the Lord who has the eyes akin to the petals of a lotus; whose lotus feet glisten with the honey oozed from the garlands adorning the crowns of the gods who bow at His feet; and who is held in great veneration and worshipped by Brahma and Siva.
He then pays obeisance to the Acharya parampara, sages like Valmiki and Vyasa, before seeking the commendation of Piraatti in the fourth sloka. He pleads, "O Mother, dweller in the lotus, listen to my submission! Please make the Lord of gods, Your beloved, accept the prattles of this child!"
In the next sloka, Sri Desika stakes his right to compose the hymn, with a fitting analogy. "What if Your greatness is extolled by Upanishads. That wouldn't stop me from singing Your praise as I think I am also competent to do so in my own little way. Even as herds of cows drink larger amounts out of the Milky Ocean, new-born calves can also drink a little".
Further, the author notes that, the Lord has no option but to fulfil his wish of praising Him, for, it is only in His interest that He must do so in order to safeguard His name 'Daasa Sathya'.
Having established 'his right' and 'His duty', Swami Desika delves into the beauty of Lord Devanatha's Divine Body and comes up with eloquent, exhaustive and expansive narration through 30 slokas (from 16 to 45).
It is customary, while describing the Lord's elegance, to start from the feet and go upward till the crown (paadhadhi kesam). This is known as the Aarohana Krama (ascending order). The reason is not too far to seek. His feet are instrumental in invoking His grace. They are the mean-all and end-all of deliverance. Familiar examples of this order are ThirupPaanaazhwar's Amalanaadhi Piran and Sri Bhagavath Dhyana Sopanam, composed by Swami himself.
But here, our Acharya, struck by Lord Devanatha's stunning beauty and perhaps, in a state of the resultant bliss, takes recourse to the Avarohana Krama (descending order), which is normally associated with description of humans. This reveals another dimension of Sri Desika's disposition as regards the Lord – Sahaja Bhaava – utmost familiarity which lessens the distance between the Lord and His devotee while shelving the concept of His supremacy, albeit temporarily. This is truly reflective of one of the great qualities of the Lord – Soulabhya (easy accessibility).
It is pertinent here to recall his own enunciation in the Tamil Prabandham 'Navamani Maalai' – "நின் வடிவழகு மறவாதார் பிறவாதாரே" (6), meaning those who do not forget Your beauty are sure to rid of further birth.
Starting from His crown, our Acharya describes the Divine beauty in the following order (No. of the 30 slokas in parentheses):
| | | |
| --- | --- | --- |
| Crown (16) | Nose (26) | Navel (36) |
| Forelock (17) | Lips (27) | Girdle-belt (37) |
| Face (18) | Neck (28) | Thighs (38) |
| Forehead (19) | Hands (29) | Knees (39) |
| Oordhvapundra (Thiruman) (20) | Sankha and Chakra (30) | Shanks (40) |
| Ears (21) | Abhaya Hastha (31) | Feet (41) |
| Ear stud called 'Makarika' (22) | Chest (32) | Toes (42) |
| Eyebrows (23) | Vanamala (33) | Nails (43) |
| Eyes (24) | Mind (34) | Feet (again) (44) |
| Eye glances (25) | Waist (35) | Pollen of feet (45) |
In the following slokas (46 and 47), Swami Desika brings out the infinite superiority of Prapathi (surrender) over Bhakthi (devotion), before surrendering his soul at the feet of the Lord. He reasons that more than Prahlada, herds of cattle (of the Gokula), Gajendra and Pareekshith put together, he deserves to be saved by Him, as his plight is more pathetic than theirs.
The author concludes this fascinating hymn, enlisting the greatness of the Lord. While reminding Him of His name – Daasa Sathya – he says that singing His praise makes himself the Speaker of Truth (Sathya Vaadhee) as is evident in this sthothra. So will be all those who recite Sri Devanayaka Panchasath.
---
* * *
Next in series: 14. Sri Achyutha Sathakam, on September 2, 2007.
* * *