Natteri P. Srihari (a) Lakshmi Narasimhacharyar, Chennai.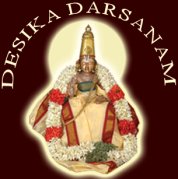 Sri Hayagriva Sthothram, which sings the praise of Lord Hayagriva and invokes his grace, is not only the first of Swami Desika's hymns but also a must for everyone. Hayagriva (Haya translates to horse and griva to neck, meaning the 'horse-necked') is considered as the 'God of Knowledge'.
Knowledge is the fulcrum of all virtues and it elevates the state of human mind. It is such a unique element that if once possessed, no external force can do any damage to it. So, it is perceived as the foremost among all wealth – others are subject to possible destruction. It is only in the fitness of things that our Acharya began his divine journey of hymn-singing with this sthothra.
Legend has it that when there was a severe crisis to the survival of Vedas, Lord Vishnu took the form of Hayagriva, and restored the treasure and gave them to Brahma. With face that of a horse and human body, this incarnation possesses four hands, the right hands sporting the chakra and sign of wisdom (Jnana Mudhra) and the left holding the conch and book. He is seated on the white lotus with a crystal-like complexion and is an embodiment of knowledge and Pranava (Omkara) and an abode of unbridled compassion for His devotees.
The day of Hayagriva's incarnation is given as Aavani Sravanam (Thiruvonam). Little wonder that Desika, who shares the Star with his favourite deity, himself is an epitome of knowledge in all its resplendent radiance.
None less than Garuda, one who has Vedas as his soul (Vedaathma), initiated our Acharya into the Hayagriva-mantra on the Aushadha Giri (the Mountain of Medicine) in Thiruvahindrapuram, a place near Cuddalore (about 190 kms from Chennai). Sri Desika chanted the mantra repeatedly and no sooner than he perfected it, a pleased Hayagriva presented Himself before our Acharya and poured his grace on him.
Sri Desika worshipped Lord Hayagriva in his nitya aradhana (daily worship). That is why, an idol of Lord Hayagriva is also installed wherever Desika's is.
Sri Hayagriva Sthothram comprises 33 slokas (including the phala sruti), a majority of them being very simple and in flowing style.
Some of the highlights of the work are as follows:
In the famous opening Sloka (Jnaanaanandhamayam Devam), Swami Desika offers his salutation as he describes the attributes of the deity: "We worship the horse-necked Lord Hayagriva who is the very personification of knowledge and bliss, whose form is like an unblemished crystal and who is the source of all kinds of learning."
"I surrender unto Lord Hayagriva whose solid form is absolutely pure and an epitome of knowledge, who has taken a vow to grant supreme knowledge (to His devotees), who is the very source of compassion and the refuge of all living beings." — Sloka No. 5 (Visudhdha Vignaana).
In Sloka No. 7 (Dhaakshinya Ramya) Sri Hayagriva is referred as the benefactor of even Dhakshinamurthi (a form of Shiva), Saraswathi and Vyasa, reputed to be repositories of knowledge. They are what they are only because of the aura and power that Hayagriva has blessed them with, avers the author.
Swami Desika's resolve to triumph over scholars of other ideologies and establish Sri Ramanuja's philosophy takes the form of a personal application to Lord Hayagriya, as he says, "O Lord, May You be seated on the throne — that is, the tip of my tongue — for, I am desirous of conquering the best of poets and logicians in philosophical debates presided over by profound scholars!" — Sloka No. 28 (Visesha Vith).
The penultimate Sloka (Vyakhya Mudhraam) is the Dhyana Sloka in which Sri Desika contemplates the deity and describes the form, hue and posture of the 'God of Knowledge' and prays for His appearance, which the Lord was all too pleased to oblige to.
The phala sruti in the final verse says that those who recite Hayagriva Sthothram with devotion would be blessed with true knowledge and proficiency in speech and poesy. Offering cardamom garland to Hayagriva, especially on Thursdays, is considered very special. Children and others who seek academic excellence would do well to worship Lord Hayagriva and recite this Sthothra.
---
* * *
Next in series: 2. Sri Dasavathara Sthothram, on March 18, 2007.
* * *